Run Together For Charity in Belfast Finale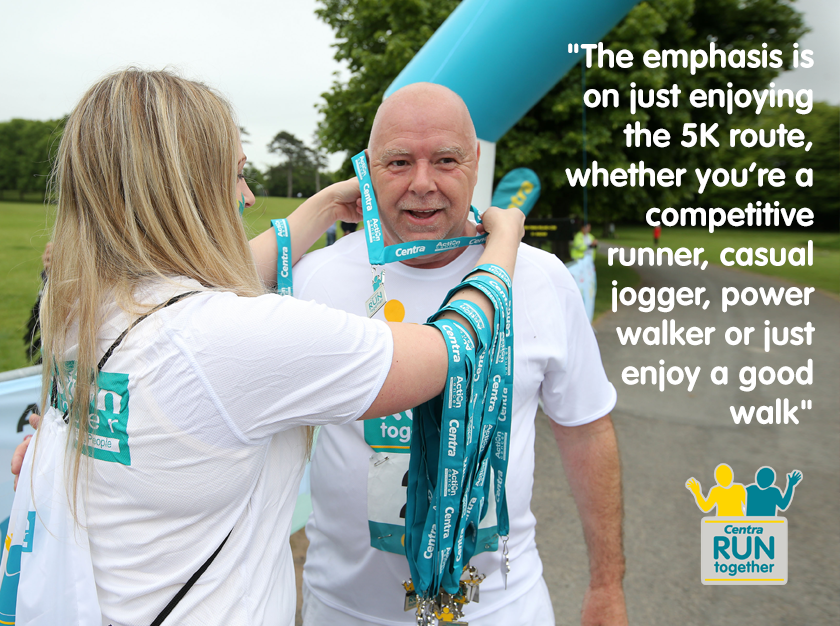 CENTRA Run Together in Belfast is under starters orders for its biggest and best event yet.
More than 600 people are expected to lace up their trainers for a good cause as the final Run Together of 2016 takes place on Sunday 13th November at Queens Dub Belfast.
Run Together is a series of 5k fun runs across Northern Ireland, organised by leading convenience retailer Centra to raise funds for Action Cancer.
It is a unique event with competitors running in pairs, so whether you want to race, jog or even walk, grab your partner, son, daughter, friend or neighbour and sign up.
Social running is currently the biggest exercise craze in Northern Ireland and with these community events, Centra is aiming to appeal to the complete spectrum of runners from club runners to Park Runners and Couch to 5k runners to newcomers.
The inaugural Centra Run Together series started in Belfast and Derry~Londonderry in June followed by a further event in Antrim in October which saw over 500 people taking part and raised more than £2,000 for charity.
The fun run, which will start at 10.30am on November 13, is designed to encourage all runners to pair up with a partner, however organiser Johnny Davis, MD of Pioneer Group, has said you can still sign up on your own.
"Centra Run Together is a fun pairs event to feed into the upsurge in participants in the ParkRun and Couch to 5k as well as the emergence of new community based running clubs in Northern Ireland," said Johnny.
"Our first three events were a fantastic success and saw a new audience of runners capitalising on their training sessions in the ParkRuns and having a bit of fun running with family and friends!
"You can still sign up even if you don't yet have a running partner and we'll endeavour to find you a partner on the day," he added.
Centra Marketing Director Michelle Fennell said: "With our Centra Run Together series, we are aiming to promote healthy lifestyles and encourage physical and mental wellbeing throughout communities in Northern Ireland.
"The 5k runs provide a novel way for you and your 'running mate', whether that's your brother, cousin, daughter or schoolfriend, to get involved in a local community event, help raise funds for Action Cancer and hopefully have a lot of fun!" she added.
Gillian Thomson, Corporate Fundraising Officer for charity partner Action Cancer said: "Centra Run Together has proved a very popular event and has already raised thousands of pounds for Action Cancer. Cancer touches so many people from all walks of life and all profits and sponsorship money from this event will go towards helping families throughout Northern Ireland by delivery life-saving services right to their doorstep.
"I would encourage anyone whether you're a seasoned runner or looking to get fit, to run for a reason and help raise vital funds for Action Cancer," she added.
For further information and registration details for Belfast Run Together www.centra.co.uk/runtogether or www.facebook.com/CentraNI
Centra is a leading convenience brand in Northern Ireland for retailers who want a convenient range of fresh, local products. Core to the Centra philosophy is building vibrant communities. Centra stores throughout the province are owned and managed by independent retailers who are committed to supporting towns and villages in which they live and operate.  This is why, every year, Centra sells in excess of £96 million worth of products from Northern Ireland in its stores.
Run Together T's & C's: Participants must enter each race as a pair. Entry costs £24 for a team of two adults (16 and over), £20 for an adult and child (under 16) and £16 for a team of two under 16s. In the event of any participant under the age of 12 taking part they must be accompanied by an adult or be under parental or guardian supervision. Participants will receive a T-shirt and goody bag and those completing the race will receive a bespoke medal. All profits and 100% of sponsorship money from the event will go to Action Cancer. Full terms and conditions can be found on www.centra.co.uk/runtogether.