Centra Partners Local Nutritionist for Summer Adventures Campaign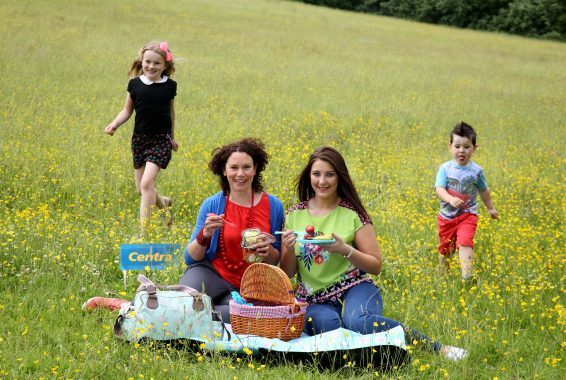 Centra has teamed up with local nutritionist Jane McClenaghan to launch its Summer Adventures campaign across Northern Ireland.
The campaign will see a mini roadshow visiting a number of Centra stores across Northern Ireland during July and August where there will be a fun merchandising pack available for customers along with family adventure prizes.
As part of the campaign, people will be invited to share their summer adventures with Centra by writing a short rhyme to win over £1,000 worth of family adventure prizes.
Nutritionist Jane will develop tips and recipes to fuel summer adventures on your doorstep whether it's on the beach, in the forest, up the mountain, in the back garden or in the house.
"I'm excited to team up with Centra to help people across Northern Ireland fuel their summer adventures. Whether you're heading to the forest for a family picnic, or enjoying a barbecue with friends in your back garden, I'll be providing some healthy yet fun, simple, recipe ideas," said Jane.
"I'll be working with Centra's 78 local retailers across Northern Ireland to ensure you have everything you need to fuel your adventure and tips to make healthy choices to eat well," she added.
Head of Marketing at Centra Northern Ireland, Desi Derby, commented: "We're delighted to partner with local nutritionist Jane, who shares the philosophy at the heart of the Centra brand of promoting healthy lifestyles and living well.
"We hope Centra's Summer Adventures campaign encourages people to get out and explore all Northern Ireland has to offer and we'll be working with Jane to help inspire you with recipes, tips, ideas and giveaways," he added.
For more information on Centra's Summer Adventures campaign and to get involved, visit www.centra.co.uk/centraadventures, log onto the Centra NI facebook page or call into your local Centra store.
Jane McClenaghan's top Summer Adventure tips:
Whether you are packing for a beach adventure, climbing a mountain, exploring the forest or holidaying at home in own back garden, Jane has provided seven key tips to make a few healthy choices to keep your energy sustained and maintained all day long.
1. Pack a snack
Keep your body well fuelled by packing a healthy snack or two into your bag to keep you going. Fresh fruit, trail mix and granola bars make ideal healthy, portable snacks.
2. Keep well hydrated
Don't forget to fill a water bottle to take with you on your adventures this summer to maintain and sustain your energy.
3. Protein power
Have a little protein with all your meals to help prevent blood sugar slumps. Eggs, meat, fish, chicken, nuts, seeds, yoghurt, cheese and peanut butter are all good sources.
4. Get cooking!
Get your kids into the kitchen to prevent summertime blues. Sizzle up a stirfry, bake some banana bread or get creative with smoothies.
5. Get outside
A healthy picnic in your own back garden can be great fun and a lovely way to get kids excited about eating healthy food. Raw veg sticks, cherry tomatoes, sugar-snap peas with healthy dips like houmous or guacamole, pasta or rice salads, crackers and cheese make the perfect picnic.
6. Fresh, local produce
Enjoy the very best of the summer season with sweet strawberries, fresh peas straight from the pods and local new potatoes. The very best nature has to offer.
7. Treat your treats as treats
When time slows down and the weather heats up, ice-cream and fish & chips are tempting treats. Choosing smaller portions, and eating these foods less often means you can still have your treat as part of a healthy diet, not instead of!
The Centra Summer Adventures roadshow is visiting the following Centra stores on the dates listed between 11.30am and 1.30pm:
| | |
| --- | --- |
| Day | Store |
| Tuesday 5th July | McCool's Centra, Ballymena |
| Friday 8th July | McDade's Centra, Ballygawley |
| Wednesday 20th July | Portglenone Centra, Antrim |
| Saturday 23rd July | McElhinney's Centra Brookmount Omagh |
| Wednesday 27th July | Lilley's Centra, Drumlyon, Enniskillen |
| Saturday 30th July | Kelly's Centra, Trench Road, Derry |
| Saturday 6th August | Lusty's Centra, Larne |
| Friday 12th August | Watson's Centra, Portaferry |
| Wednesday 17th August | Centra Deansbridge, Armagh |
| Thursday 25th August | McGoveran's Centra, Cathedral Quarter, Belfast |